The Hossack Case
Margaret Murchison Hossack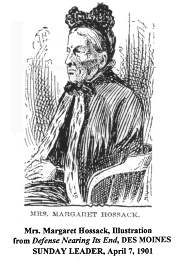 Margaret Murchison was born on November 19, 1843, and, like her husband, was a native of Ross Shire, Scotland. She was the youngest of four children. At the age of five, she traveled with her family to North America. Over time, her father and older brothers established themselves as successful farmers and respected citizens in Stark County, Illinois, and her family helped to found the United Presbyterian Church in Toulon.
On January 29, 1868, Margaret Murchison married John Hossack, a hired hand on her father's farm, and she moved with him to Iowa a few months later. She never returned to Illinois, and, except for her brother, Donald, she never saw any of her family again. Her first child, Alex, was born on August 16, 1868, and she gave birth to nine more children over the next twenty years. Her last child, Ivan, was born when she was almost forty-four years old. Nine of her ten children lived to adulthood; by the time she died, Margaret had more than twenty grandchildren.
According to later reports from neighbors, Margaret often angered her husband by taking her children's side when they went against his wishes, and her children were loyal to her throughout her life. After she was arrested for the murder of her husband, all of her children (as well as her two sons-in-law) supported her. Margaret Hossack always maintained her innocence, claiming that she had been asleep when an unidentified intruder attacked her husband. She was consistent in the story she told, and she was an important witness in her own defense at both trials. The newspapers reported that she seemed to age noticeably during the long ordeal of the legal proceedings.
Margaret Hossack lived in Indianola for the last thirteen years of her life. She died on August 25, 1916.
[ Back to More About the Hossack Case ]