Susan Glaspell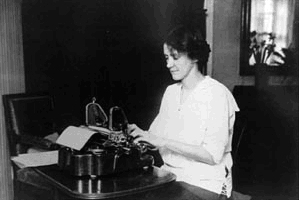 In a career that spanned more than forty years, Susan Glaspell worked as a journalist, fiction writer, playwright, and promoter of various artistic ventures. She completed eleven plays, nine novels, a biography, and more than fifty short stories. Her production and artistic versatility established her as one of the most prominent American writers of the first half of the 20th century. Her work often depicted the experiences and struggles of women in a male-dominated society. In addition to her creative output and achievements, she is also known for her role in establishing the Provincetown Players, her influence on the early work of Eugene O'Neill, and her service as director of the Midwest Play Bureau.
Glaspell was born, raised, and educated in the Midwest and lived her early years in Davenport, Iowa. In 1898, she graduated from Drake University and took a job as a reporter for the Des Moines Daily News. After eighteen months of covering statehouse politics, she was assigned to report on a murder case: the homicide of John Hossack, a prosperous Warren County farmer who had been killed in his sleep.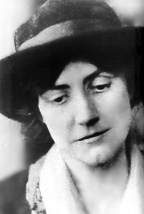 Glaspell was one of the first reporters on the scene. Amid reports of longstanding domestic troubles in the Hossack family, the victim's wife, Margaret, was arrested and charged with the crime. Mrs. Hossack claimed to be innocent, saying that an intruder struck the fatal blows. A few days later, Glaspell visited the Hossack farmhouse and observed the crime scene. The image of Margaret Hossack's kitchen made an indelible impression on Glaspell.
From early December 1900 until late April 1901, Glaspell investigated the crime, reported on the legal proceedings, and observed the path of justice in a rural Iowa community. Glaspell wrote more than twenty articles on the case and speculated about the identity of "the midnight assassin," as she called the assailant in one article. Glaspell's evolving portrait of Mrs. Hossack sheds light on Glaspell's thinking and sympathies--and these news articles foreshadow the themes she later developed in Trifles and "A Jury of Her Peers."
Shortly after Margaret Hossack's trial ended, Glaspell resigned her position at the Daily News and returned to Davenport to try her hand at writing fiction. Over the next fifteen years, she published many short stories and several critically acclaimed and bestselling novels. She married George Cram Cook, a vibrant idealist, and they moved to Greenwich Village. Together, Glaspell and Cook created the Provincetown Players and introduced American audiences to the work of Eugene O'Neill.
In the summer of 1916, Glaspell wrote her first play, a one-act drama titled Trifles. In Provincetown, working in a small room that faced the ocean, Glaspell composed the play in just ten days. Trifles is not a literal retelling of the story of Margaret Hossack, but the play is clearly based on Glaspell's memory of the setting, investigation, and circumstances of the murder of John Hossack. In the first performance of the play that summer, Glaspell played the role of Mrs. Hale. A year later, Glaspell reworked the material of Trifles into a short story, which she titled "A Jury of Her Peers."
The success of Trifles opened a new chapter in Glaspell's creative life. She wrote ten more plays, including Alison's House, which was awarded the Pulitzer Prize for drama in 1931. Despite her success as a playwright, Glaspell did not abandon her interest in fiction. Several of her later novels appeared on bestseller lists and one was made into a movie. As one of her biographers wrote, "Glaspell's oeuvre is unparalleled in American letters in its major achievements in two genres, drama and fiction."
Glaspell lived the last years of her life on Cape Cod. She died in Provincetown on July 27, 1948 at the age of 72.
---
Read Susan Glaspell's newspaper articles on the Hossack case

Read Trifles

Read Patricia L. Bryan's article "Stories in Fiction and in Fact: A Jury of Her Peers and the 1901 Murder Trial of Margaret Hossack"

For additional information about Susan Glaspell and a comprehensive bibliography, visit the website for the Susan Glaspell Society

Learn more about the re-release of the film "A Jury of Her Peers"
[ Back ]