The Hossack Case
William H. Berry (Defense Lawyer)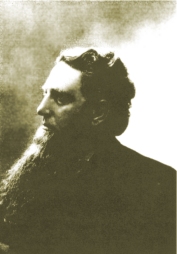 Born in Illinois in 1849, William H. Berry moved to Iowa with his parents and siblings in the spring of 1867 and entered Simpson College the following year. He graduated in 1872 and married the class valedictorian, Alice Barker. The couple had one son, Don.
After reading the law, Berry was admitted to the bar in 1873. For the next fifty years, he was a prominent lawyer and politician in Warren County, serving two terms as state senator. In that position, he proposed legislation to abolish the death penalty, and, in 1912, he was prominently mentioned as a candidate for governor. He was later named head of the state Board of Parole. He also served for more than fifty years as a trustee of Simpson College.
Berry's earliest professional association was with John Henderson. The two men practiced together for many years, and they were both involved in the vigorous defense mounted on behalf of Margaret Hossack. Berry was known for his eloquent arguments in front of juries.
The Berry house on Ashland Avenue was regarded as the social and intellectual hub of Indianola for many years. After a lifetime of service to his community and state, Senator Berry died of a heart attack on the threshold of his office in 1923.
[ Back to More About the Hossack Case ]